GET COLLEGE FOOTBALL ON TV
For over 100 years, Americans have lived and breathed football. It's where winners leave their mark and the strongest teams set themselves apart from the competition. Since the first college football game took place between Rutgers and Princeton in 1869, we can't get enough of this action-packed sport. With the 2018 season just around the corner, now is the time to find the best way to watch college football on TV.
Sling TV brings you the hottest games at your fingertips, so you can catch all the excitement and live action. Mark your calendar for this season's first games, and find out what you need to see all of your favorite teams play.
CHECK OUT TOP TEAM'S SCHEDULES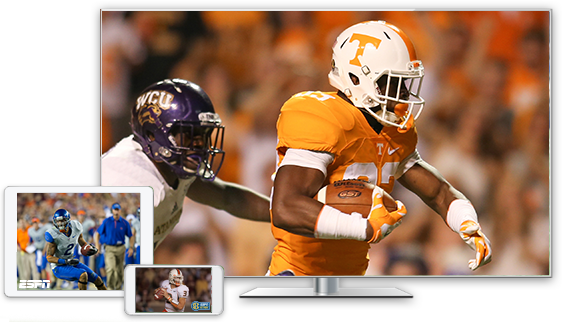 BRING HOME THE BIGGEST COLLEGE FOOTBALL GAMES
If you're an alum who wants to catch your alma mater's games or a die-hard fan who can't get enough college football, make sure you have the coverage you need to catch all the biggest games. Keep your eye on top players and tune in to watch the live college football you've got to see on Sling TV. 
WATCH COLLEGE FOOTBALL LIVE
For college football fans, knowing when and where to tune in for must-see matchups is a top priority. There are many ways to get the games you want live across networks like ESPN, ACC, SEC Network, Pac-12 and more. Follow leading Division 1-A teams from every conference and see below for the networks you'll need to watch college football live.
Go beyond the regular season games and live on the edge of your seat with the top college football bowl games from Sling TV. Watch the Rose Bowl, the CFP Semifinal at the Cotton Bowl, the Allstate Sugar Bowl and more. Plus, get live coverage of the College Football Playoff National Championship.