Everything you need to know about cutting the cord:
Do you love cable TV shows but hate the high price of your cable bill? Sounds like a case for cord-cutting. The term refers to the practice of "cutting" yourself loose from expensive cable subscriptions and replacing them with low-cost, online TV subscription services.
Cutting the cord means giving yourself the freedom that long-term contracts and fixed service lineups won't. You can build your own bundle of streaming services, change your mind at any time, and get away from that feeling of being stuck as a powerless consumer.
It can feel like a big leap, but don't be intimidated. This guide will help you understand all about cutting the cord so you can make an informed decision.
Streaming live TV is the budget-friendly, easier, and more flexible way to watch the TV that you know and love. Instead of using a traditional cable line or satellite dish, streaming delivers your content using the internet. 
The concept of streaming first came around with movies and music, and now can be used for everything from video games to smartphone apps and – you guessed it – live TV.
Your favorite shows and live games are sent to your TV in real-time over the internet, meaning that there's no download time or need for storage space. Your show arrives in a continuous stream when you press play, and disappears once you've watched it.
When you're streaming live TV, this means that your show or game is coming right to you as soon as the broadcasters send it out just as it would if you were watching on a cable or satellite connection. If you're streaming on-demand video, then the video is ready to watch as soon as you ask for it.
Can I Stream Local Channels?
Cable companies love to perpetuate the myth that without your cable subscription, you won't be able to get your local channels. But you can get your local news, live sports and favorite network shows without the high cable bill, even though local channel availability varies based on your location.

The most popular local networks offer a lot of primetime programming in addition to local news broadcasts and select sports coverage. Some streaming services offer local channels in their lineups, but you'll still pay for them.
Here are a few ways you can access your local channels for free.
Use an antenna
An HD antenna is the most surefire way to get access to the local channels in your area without paying a dime. Availability and number of local channels you receive through an antenna varies by location.
Indoor antennas
HD antennas range in price from $10 to $90, depending on the quality and signal range or get one free when you prepay 2 months of Sling
One-time purchase that allows to you to watch available local channels for free
Outdoor antennas
Great for addresses that require more range
Slightly more expensive in upfront costs and setup labor
Will likely receive better signals to view your channels
Keep in mind that things like interference, placement, and positioning are important for antennas - unlike cable or internet streaming. Make sure your antenna is facing the nearest broadcast towers and away from obstructions like walls, furniture, or electronics.
Access Networks Online
Each network has different restrictions for online access and streaming. While some networks may still require a TV provider login to access their content, many networks offer free content as well. If your shows require a login, you may still be able to watch your favorite shows for free if you don't mind waiting through a delay after an episode airs.
For full access to the network's content or the guaranteed ability to live stream without a TV provider, you'll need a separate subscription for most local channels. A CBS All Access subscription, for example, gets you live streaming and immediate access to full episodes of all CBS shows as well as NFL games, and paying for FOX's app means that you can watch content beyond a one-hour free preview.
Between HD antennas and network apps, getting local channels without cable is no longer the hurdle it used to be. Cut the cord without losing the channels that mean the most to you by combining free locals with a streaming service like Sling and save money without sacrificing entertainment.
What Do I Need to Cut the Cord?
High-Speed Internet
The biggest requirement when it comes to streaming is a reliable internet connection. Because streaming doesn't download data, it needs to be able to transfer the video to you in real time. If your internet connection is too slow, you might run into problems with buffering or poor video quality.
It's generally recommended to have an internet speed of at least 25 Mbps if your household uses multiple devices at the same time. So if you're watching a cat video on your phone while you're streaming your favorite show, you likely have all the speed you need.
Compatible streaming device
In order to stream, you also need to have a compatible streaming device. If you want to mirror a traditional cable experience, get your main TV set up to stream by connecting it to a streaming device like a Roku, Amazon Fire TV Stick or AirTV Mini.
(Fun fact: Sling has great streaming device deals that will help you get set up!)
If you have a smart TV, you can stream without needing a separate device by downloading the streaming service from the app library. You can also stream on a huge number of mobile devices so you can watch on the go, from your iOS or Android smartphone to tablets and laptops.
The wide range of compatible device options helps you avoid the need for equipment rental fees and ultimately saves you money when compared with a cable or satellite subscription. Streaming TV services like SLING also save you money by offering flexible  bundles that let you customize your service so you're not paying for dozens of channels that you'll never watch.
Check out our full list of compatible devices that you can use to watch live TV on SLING.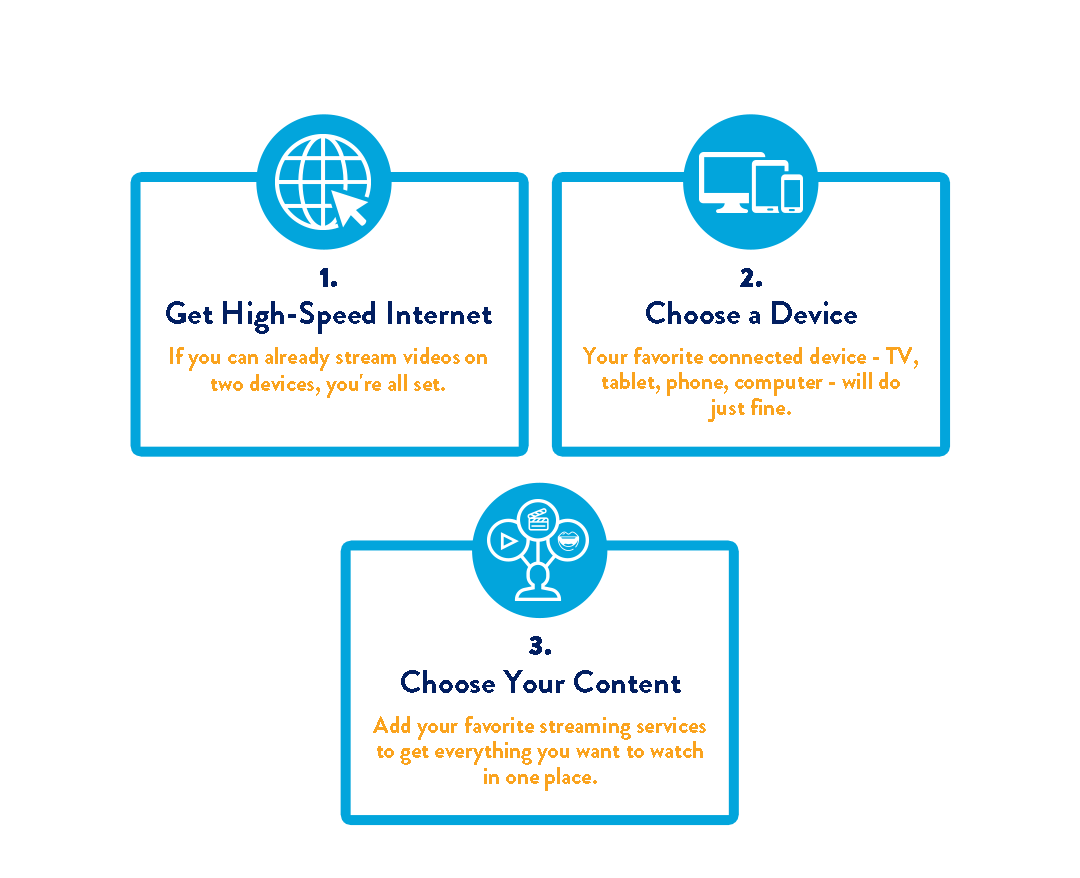 Do you have internet service at home?
Because streaming services rely on the internet instead of a hard-wired cable box or satellite dish, having a reliable home internet connection is crucial. It's recommended to have a constant internet speed of 25 Mbps or more if you're planning on using the internet on multiple devices at the same time. You can use this tool to check your internet speed.
Do you currently pay $50 or more per month on cable?
If your cable service costs you less than $50/month, you might be a wizard – the average cable contract costs more than $100/month, and that price is rising. Live TV streaming services like Sling can get you watching the shows you love for as little as $35/month and leave plenty of room in your budget for other streaming services, too.
Do you already subscribe to other streaming services (like Netflix or Amazon Prime)?
Speaking of other streaming services, if you watch on-demand content with services like Netflix then chances are you're already primed for cutting the cord. You probably already have home internet, at least one streaming device and are comfortable with using apps to manage your streaming. Plus, by cutting the cord and swapping your cable subscription for your favorite streaming services, you can significantly lower your monthly costs without sacrificing your favorite shows.
Do you want more control over what channels you pay for?
When you cut the cord and switch to a live TV streaming service, you can choose from channel bundles that are much less bloated than what cable offers you. Sling has two sleek base services, SLING Orange and SLING Blue, which give you a solid foundation of channels. You can then add or drop small channel bundles and a la carte options to build yourself a lineup that includes more of what you actually watch and less of what you don't.
Do you watch any foreign language content or premium channels?
Instead of having to cross your fingers that your preferred premium channels are included in your cable lineup, cutting the cord means you can easily sign up for the premium channels that you want or add them to your streaming service. It also frees up some space in your budget to explore the many international streaming services that let you watch foreign language content. SLING has a diverse library of foreign channels you can add that will mimic cable by keeping all of your channel options in one place.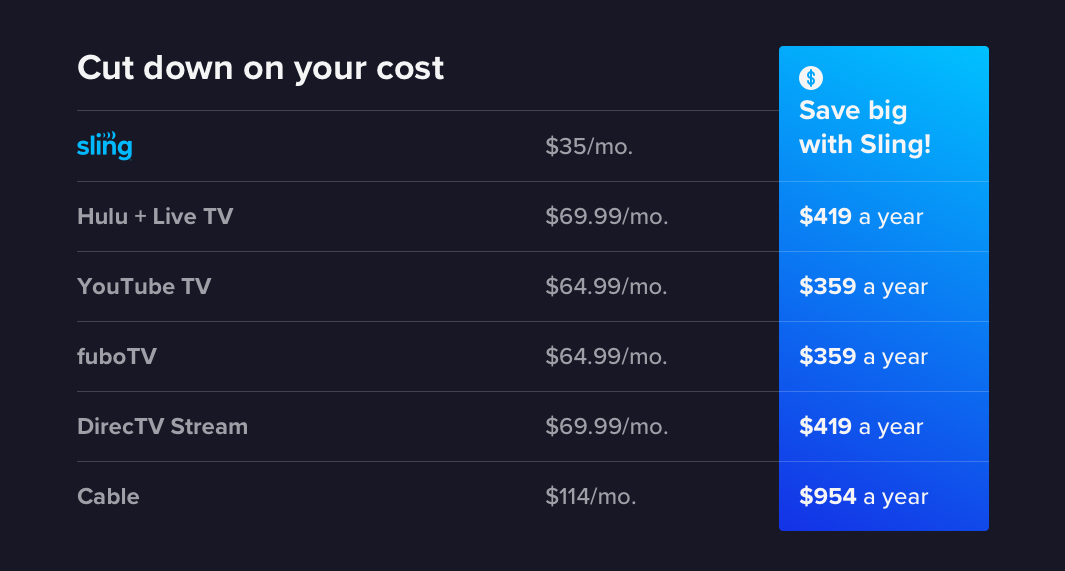 Is Streaming Better than Cable?
Making the decision to cut the cord can seem like a pretty big leap. There are a lot of factors to consider, and at the end of the day it all comes down to what's most important to you. That's why we did the homework for you and compared the key characteristics of cable vs. streaming TV so you can make the decision that's best for you.
Cost and Commitment
If you're debating cutting the cord, the question of cost is likely one of the biggest. It's easy to hate how expensive your cable bill is, but what's the reality of the alternative?
Think about it this way: Streaming services are pretty straightforward. The price you see is the exact same price that you pay each month on your bill. Cable contracts, on the other hand, are full of fine print and hidden fees. A service fee, an equipment rental fee, a broadcast fee – before you know it, you're paying a significantly higher price each month than you originally thought you would.
Another important consideration is how many other services you pay for each month. If you like watching the original content that certain on-demand streaming services like Netflix offer, you'll have to factor in the monthly costs of those subscriptions in addition to your live TV streaming service.
Some cable companies allow you to bundle your internet service with your cable, but once you add in all of your other streaming services it could still be in your wallet's favor to switch to an internet-only subscription. Plus, chances are good that you'll need an at-home internet service anyway, especially if anybody in your household studies or works from home.
One of the biggest differences between cable and streaming is the contract – or, in the case of streaming, the lack of one. Cable companies usually make you sign on for one or two years at a time, and if you want out of it you'll have to pay a hefty cancellation fee. Streaming services have no long-term contracts, giving you the freedom to cancel if your budget changes.
Flexibility in your Viewing Experience
You can sign up and start watching in five minutes or less. The ease of signing up and watching TV online is a huge selling point that has helped streaming services make their name. As opposed to traditional cable TV that requires equipment installation and contracts before you can start watching, streaming TV online allows people to be flexible with when and how they watch.
Some traditional services are starting to make strides with the number of devices that you can use to watch your shows, but if you don't like being tied to your living room television then streaming is definitely a better option for you. Services like SLING support viewing on over a dozen different devices, including your smartphone or tablet, so you can watch TV wherever you want.
Streaming TV also offers more flexibility when it comes to choosing your channel lineup. While programming provider restrictions make it so that no service is truly a la carte, streaming services are much closer than traditional cable. At one point, the appeal of cable was its huge selection of channels – now it's just overwhelming. Streaming on a service like SLING lets you mix and match to include the channels you really want without paying for hundreds that you don't.
Internet Connection vs. Cable Hook-Up
At this point it's pretty clear that to watch TV online you need to have an internet connection, which means your internet needs might change, too. If you want to watch on multiple devices or stream in high-definition, your internet speed will need to be much faster and have higher data caps than if you were just going to surf the web or check social media.
Your internet needs will also change depending on how many people there are in your household. Larger households will likely be streaming more, and so will need a faster internet connection to accommodate that. It's generally recommended to have a connection speed of at least 25 Mbps in order to stream in high quality. More people also increases your risk of hitting your data cap, or the point where your internet provider slows down your internet speed as a result of overuse.
Watching TV from a cable provider eliminates this consideration. For the most part, cable connections provide a seamless viewing experience that won't change based on use. The nature of a cable connection, though, means that you sacrifice the portability of an internet-based TV experience.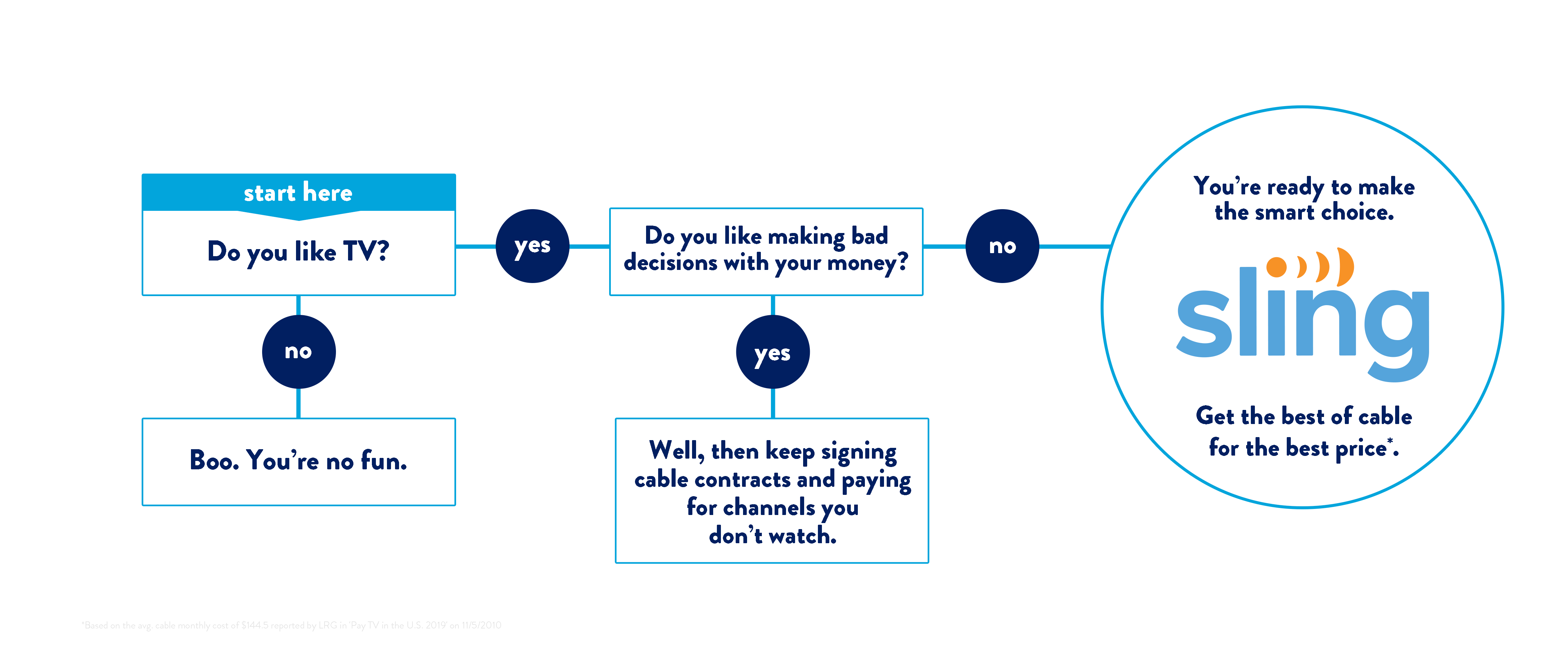 Draw your own conclusions
Your decision to cut the cord or stay with cable will ultimately depend on your own priorities. Do you value familiarity over flexibility? Are you looking to be friendly to your wallet? Keep in mind that streaming services are actually less of a diversion from cable than you might think and offer you more control and flexibility with your monthly budget.
When you're ready to cut the cord, check out Sling's affordable package options.