The best things to Sling. Right in your inbox.
Success
Oops, something went wrong.

By signing up, you agree to receive blog updates and other emails from Sling TV. You may unsubscribe at any time.
NCAA Men's Basketball Tournament Preview: How To Watch and More
To get you ready for the NCAA Men's Basketball Tournament, here's how to watch and why we're excited.
Villanova fans remember the feeling. UConn fans know it well. Virginia fans felt all the feelings, going from a glass case of emotion to the summit of joy. No other event in sports comes close to matching the highs and lows of the NCAA College Basketball Tournament. It is, in a word, Madness.
And it's finally back.
After cancelling the 2020 Tournament due to those ever-present five letters and a number, the NCAA Men's College Basketball Tournament is set to tip-off tomorrow night with the First Four games, before the main course begins Friday, March 19 at Noon ET. The fact that it's been 24 very trying months since Virginia emerged from the aforementioned glass case to win the school's first national championship, well, that's only added to the excitement.
To help you get into the spirit of the season, here's a quick overview of five things we're hype for ahead of the Big Dance. But first, everything you need to know about how to watch the games on Sling.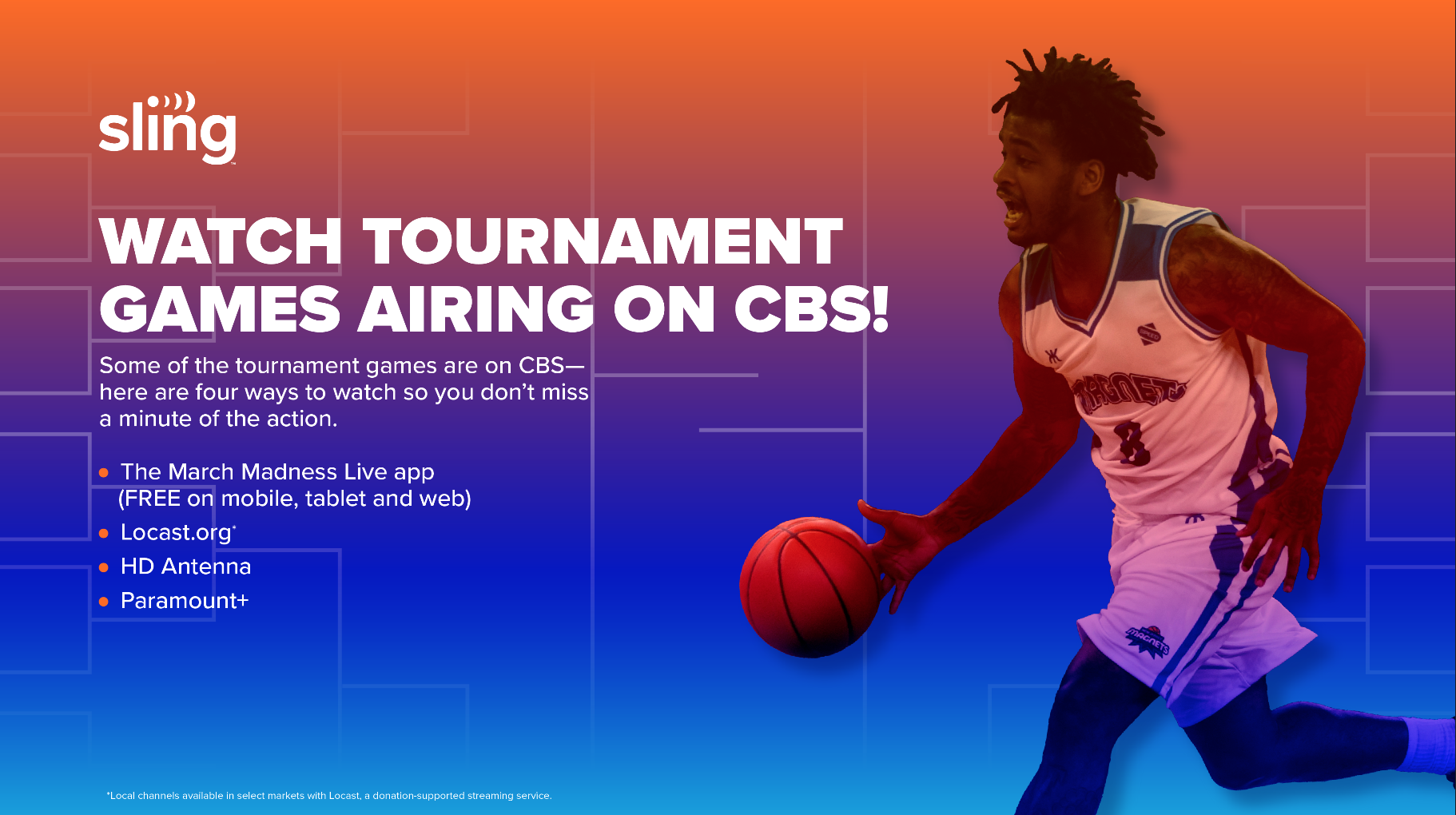 The first four rounds of the 64-team tournament (First Round through the Elite 8®) will be split between four networks: TBS, TNT, truTV (which are available on Sling Blue and Orange + Blue), and CBS. The Final Four® and National Championship Game will air exclusively on CBS. However, there are a variety of options you can use to watch, including:
The March Madness Live App, where you can watch all the games for free on your mobile, tablet or web device.

An HD Antenna, which allows you to watch all of your local channels in HD.

Paramount +, the new streaming service that includes CBS.
Now that you know how to watch, here are five reasons why you should tune-in.
Bracket Busters
Spoiler Alert: Your bracket is wrong. I can't tell you which games exactly (that would ruin the fun), but you don't have every pick. Sorry to break it to you so publicly.
But fear not! Unlike the tournament itself, you don't have to win every single game to come out on top. We spoke with SportsGrid host Ariel Epstein, who shared some of her favorite picks in the tournament. Check out the video above for her complete picks, here are a few extras:
Appearing in their first NCAA Tournament since 1991, Rutgers will upset Clemson in the First Round.

If you're looking for a longshot seeded #4 or higher to win it all, Purdue is Epstein's pick.

Gonzaga has an excellent chance to become the first team in 45 years to have an undefeated season and win a Division I National Championship.
Non-stop Action
Remember what it was like to open four small browser windows and secretly watch all of the action, all at once, from your cubicle in the office? (For that matter, remember offices?). This year's tournament begins on a Friday, rather than the traditional Thursday, shifting the window of private office viewing parties by a day: The 32 First Round games will be played March 19-20, followed by the Second Round on Sunday and Monday, March 21-22. 
After a four day break, the action picks up with the Sweet 16 on Sat. March 27 and Sun. March 28. CBS will carry the Elite 8® games on Monday, March 29 before shifting to TBS for the games played on Tues. March 30. The Final Four® is Saturday, April 3, followed by the National Championship on Monday, April 5.

For a complete schedule, including matchups and tip times, follow this link.

Buzzer-Beaters
There's a case to be made for a successful Hail Mary, but most people would tell you the buzzer-beater is the most exciting play in sports. It may last only a second or two, but that breathless moment from the time the ball leaves the player's hands to the time it falls through the cylinder is a symphony of exhilaration. Just watch the video above. Or this one. Or this video, which, almost three decades later, still beggars belief. Depending on which side of the fanbase you're on, these clips are either an ecstatic memory or a cruel reminder, but regardless, it's hard to think of many sports moments that pack this much emotion into such a short window of time.
Cutting the Nets
It's easy to think of college basketball and football as the last step in training for the pros. But for most college athletes, their sporting life ends when they get their diploma. That's what makes the ceremonial net-cutting so special for the teams heading to the Final Four®. Making it further than 60 other teams is a huge accomplishment, and for most players on those squads, it's the pinnacle of their entire collegiate careers. Watching these kids climb the ladder and claim their piece of the net (a lovely symbol of individual parts stitched together into a meaningful whole), you can see the hard-won joy written on their faces.
"One Shining Moment"
Yes, "One Shining Moment" is a corny song. Some might even call it cringeworthy. It honestly doesn't matter. To the college basketball fan, "One Shining Moment"—which has soundtracked the tournament highlights montage after the National Championship Game every year since 1987—is basically "Happy Birthday": A song so closely associated with a specific moment of joy that it's pointless to judge it on any creative merits. Songwriter David Barrett says "One Shining Moment" came to him fully formed in honor of Larry Bird, but it belongs to all of us now.