The best things to Sling. Right in your inbox.
Success
Oops, something went wrong.

By signing up, you agree to receive blog updates and other emails from Sling TV. You may unsubscribe at any time.
Elite 8 Preview and Schedule: How to Watch on Sling
This year's Elite 8 is a mixture of heavy favorites and surprising underdogs. Here's a preview along with the schedule on Sling.
We've reached the Elite 8® in the NCAA Men's College Basketball Tournament, and with three No. 1-seeds and a No. 2 still alive in the four regions, the "elite" moniker fits half the bracket. But no one outside of their biggest boosters would have picked the remaining teams; three Pac-12 squads (USC, UCLA, and Oregon State) and an Arkansas team that hasn't made it this far in the tournament since Bill Clinton's first term.
It's a fitting field for a March Madness® that's been alternately predictable and highly unexpected. Undefeated Gonzaga continues to roll, Michigan is making up for the injury to Isaiah Livers with great team basketball, and Baylor has been, well, a bear. But both No. 12 Oregon State and No. 11 UCLA were able to pull off Sweet 16 upsets over Loyola Chicago and Alabama, respectively, while No. 6 USC has dominated opponents in the tournament, with their three wins coming by an average of 21 points. 
So the Final Four could look either extremely surprising or unusually chalky depending on what happens over the next two days. Tonight's Elite 8® games are on CBS (check out the graphic below or click here for more information on how to watch on Sling), while you can catch Tuesday's games on TBS.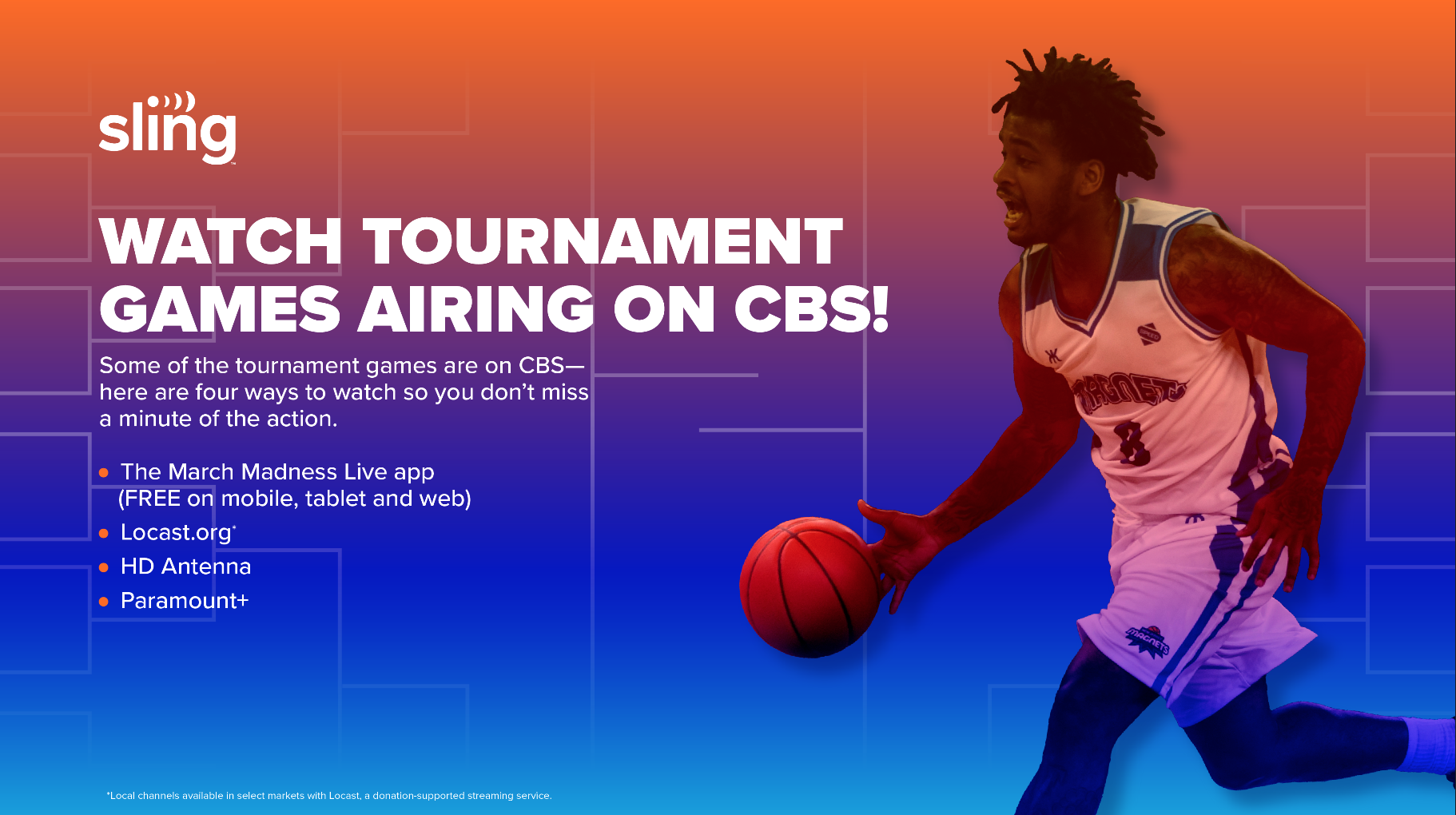 Elite Eight® Schedule
Round

Time (ET)

Matchup

Channel

Mon. March 29
Elite Eight
7:15 PM
(2) Houston 67, (12) Oregon State 61
CBS* >
Elite Eight
9:57 PM
(1) Baylor 81, (3) Arkansas 72
CBS* >
Tue. March 30
Elite Eight
7:15 PM
(1) Gonzaga 85, (6) USC 66
TBS >
Elite Eight
9:57 PM
(11) UCLA 51, (1) Michigan 49
TBS >
NCAA and March Madness are trademarks owned or licensed by The National Collegiate Athletic Association. All rights reserved.