The best things to Sling. Right in your inbox.
Success
Oops, something went wrong.

By signing up, you agree to receive blog updates and other emails from Sling TV. You may unsubscribe at any time.
Almost two years ago, MBC suddenly decided to let go of its Arabic version of ET. There were many reasons that led to the show's being taken off air, including rumors about a production conflict. However, the show was simply rebranded as Trending, and covers celebrity rumors across social media. Subhi Utri serves as the show's host and is a breath of fresh air, considering that most similar shows feature presenters based on how attractive they are, rather than how in tune they are with their subjects.
Utri found himself touring a number of Arab countries, conducting interviews and showing the audience exclusive footage of what goes on backstage during the filming of Ramadan shows. Due to his strong ties to the actors, the showcases and interviews came off as very natural. At one point, he interviewed Syrian actor Qusai Kholi, asking general questions about his character in Khamsa w Nos and his trademark watch and hat. Utri also asked Kholi about his work partnership with fellow actor Mutasim Alnahar when filming for the show.
While interviewing Daniela Rahmeh behind the scenes of the series Alkatib, Utri and Rahmeh discussed how she prepared for the role, including how she learned law jargon. She also shared a personal detail about her unusual fear of reptiles in the workplace. For the series Alhayba, Utri interviewed Siren Abdulnour, during which she told a funny anecdote about losing the papers on which all of her scenes were written down.
When it comes to the studio segment of the show, presenters derive their content from professional critics and journalists, so that their analyses is well-founded. 
For those who are concerned the show will be taken off the air, like they thought ET was, there's good news: Trending will continue as long as it covers events held by the Saudi entertainment industry, since they're a considerable focus of the show. This means that viewers will have the continued pleasure to see up-close-and-personal shots of behind-the-scenes.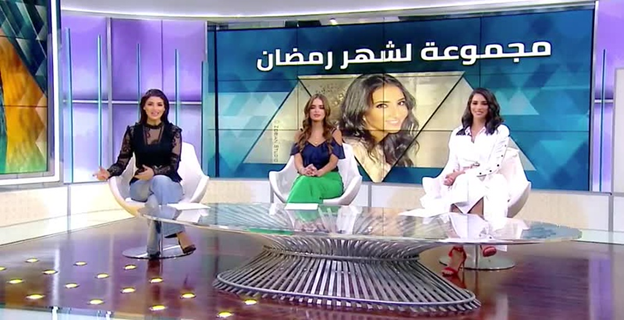 While his background is in business, Subhi Utri's focus has always been on the entertainment industry. He has received certificates in mass media and television technology, specializing in shows, presenting news, and hosting talk shows. He also worked on magazines and newspapers in the Arab world, transitioning over to television in 2007 with Rotana in the Arabian Gulf. Since then, he has had interviews with many Arab and international celebrities, covering film and music festivals. Utri has also taken part in shows such as Mosaic, Star World, and Fashion Time.
The show has evolved over the years, lending to drastic changes in casting and format. Now there is far more spontaneity in the presentation, and the rigid structure is gone. Also, the show now covers social media personalities instead of just focusing on actors and singers. Over the years, the cast has held a number of personalities, including Alanoud Bader, Walaa Alfayiq, Nouriddeen Alyousif, and Besnet Shamsiddeen. 
Alanoud Bader said that she learned a lot from the show, while Walaa Alfayiq said that the experience matured in the new season and commented on how the show has a new "soul." Nouriddeen Alyousif called the show his new home despite its having challenges. Besnet Shamsiddeen achieved her dream of joining MBC by transitioning from radio. With such an eclectic cast, it is hard to resist the appeal of a never-ending array of news that appeals to those who love gossip.
Ahlam, a legendary singer from the UAE, made an appearance on Trending, talking about her long-running feud with singer Asala from Syria. Ahlam said that Fajr Alsaeed criticized Asala, and Asala accused Ahlam of turning Alsaeed against her. Quite naturally, Ahlam did not like that accusation. Regardless, when Alsaeed got sick at one point, Asala sent her a message through social media, wishing her to get better. Because of that, Ahlam commended her and said that she loved her. Initially, Asala reciprocated the kind words, but she also asked Ahlam why she would sometimes give her a hard time. Unfortunately, that did not end well, and, during one of the concert seasons, they refused to stay at the same hotel.
One of the most recent news topics that Trending covered included Shireen Abdulwahab singing on a chair, possibly because she had gained weight. Behind the scenes, at the concluding celebration of the Riyadh season, Assi Alhellani commented on the controversy of Heide Muhammad's exit from The Voice Kids. Amr Yousif revealed the details of the Khalid Ibn Alwaleed series, in addition to commenting on the arguments that had been publicized. Midhat Aladel defended Mustafa Shaaban against Mustafa Muharram, and Muhammad Hamaki revealed his new project that may involve a song for his daughter, Ranya Yousif. And that's just scratching the surface of what Trending can offer.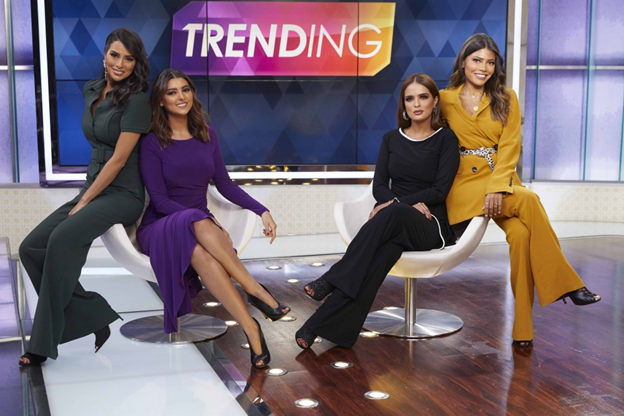 Don't miss Trending on MBC by subscribing to the Arabic mosaic pack on Sling TV!