The best things to Sling. Right in your inbox.
Success
Oops, something went wrong.

By signing up, you agree to receive blog updates and other emails from Sling TV. You may unsubscribe at any time.
5 Times Mohammed Ramadan Broke the Internet
Every country has that one celebrity who is constantly topping social media trends and at the center of most headlines. In the U.S, it's the Kardashians, who seem to have honed the skill of going viral, with everything from scandals to a cute video of their kids, amassing high viewership for the American/Armenian clan.
In the UK, anytime journalist and TV personality Piers Morgan is near a phone and decides to tweet, he sets the internet ablaze with his controversial statements and ponderings. Then there's the UK royals, prince Harry and Meghan, who break the internet with literally everything they do, but more recently when the couple basically decided to quit the Royal family - as one does.
In Egypt, Mohamed Ramadan is the Kim Kardashian and Piers Morgan of his people. For every picture of Kim Kardashian showing off her assets, there is one of Mohammed Ramadan flaunting his bare chest. Over the past few years, Ramadan has managed to rouse intense reactions on the internet with his music videos - and any type of content really, that he releases- reaching wide engagement and rapid growth within a few hours of being posted. Some of his content has been criticized however and labeled by viewers and celebrities alike, as being inappropriate; with some viewers going so far as to accuse the megastar of arrogance and conceit.
His notoriety seems to go hand in hand with his fame as the actor/singer/rapper has broken the internet several times over the past few years with an increasingly high number of views for much of his work. And as is the case with many celebrities, instant fame comes with instant infamy - with a significant amount of backlash following the star whenever he releases new content. 
He's already amassed high viewership and major successes for many of his works including last year's Ramadan series, Zelzal. This year, the actor will be taking part in the Ramadan series, El Prince, which follows a mechanic who works side by side with his father in an auto shop. After the tragic death of his father, Radwan (Mohammed Ramadan) and his siblings are faced with a surprise. That's when things escalate and Radwan is falsely accused and thrown in jail but not without promising vengeance on all those who've wronged him.
We have yet to find out whether 'El Prince' will receive wide success (it probably will, let's be real.). But until then, here are 5 times Mohammed Ramadan broke the internet.
Number One & The King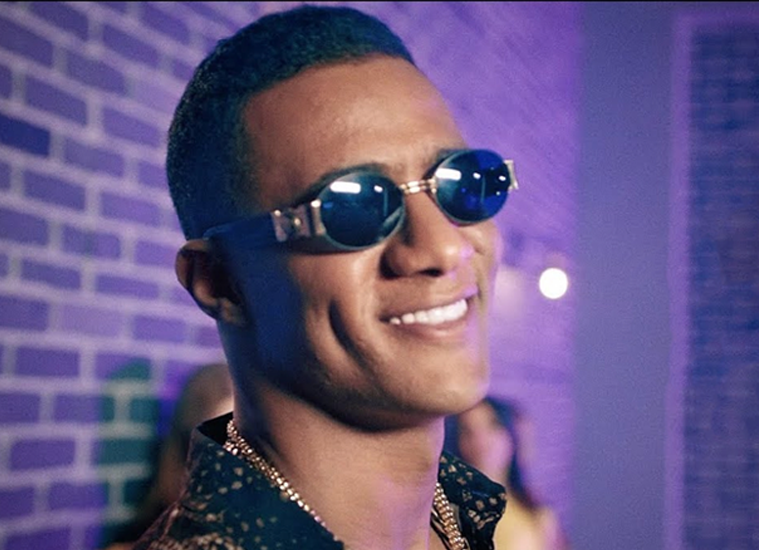 Mohammed Ramadan, who found his calling as an actor and achieved mass popularity with his series 'El Ostoura' and 'Nesr El Saeed', actually released his first song, 'Aywa, Aywa' back in 2012. It's only over the past few years, however, that his skills as a musician ripened and put him under the spotlight with every song the rapper releases being met with massive viewership; but not without a few controversial clapbacks from some.
Released in 2018, both his songs 'Number 1' and 'The King' brought in the highest number of views on Youtube in 2018 thus ranking at the top of the list for popular Egyptian music videos for that year.  
They were, however, met with criticism as Egyptians took to social media to criticize the rapper's attitude; with some going so far as to insult his skills as a musician. As is customary for the world wide web, a series of sarcastic memes poking fun at the "rapper" were born in response to Ramadan's music videos. Similarly, celebrities also joined in on the attack with Egyptian actress and singer Bushra taking it up a notch and clapping back at Ramadan with a music video of her own, Kobra, which threw shade at Ramadan for giving himself the title of 'Number 1'.
Mafia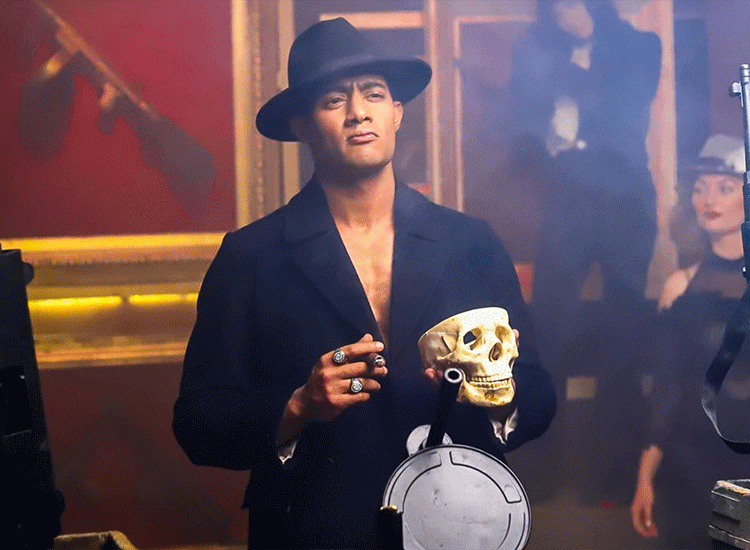 Released in 2019, Mohammed Ramdan's music video, Mafia, totaled over 2 million views in less than 24 hours of being uploaded onto YouTube.
The song, which Mohammed Ramadan claims is a rebuttal to anyone challenging him, was trending on twitter along with his name at the time of its release; with the title being the most searched on google.
The music video starts with a shot of an oblong table spread with stacks  of cash. As the viewers reach the foot of the table, none other than Mohammed Ramadan, dressed as a mafioso no less, is seated, hanging out while his goons who are counting the money. There's also a typewriter, for some odd reason, by the piles of cash.
Ramadan and his goons then go on to sing the chorus, which is made up of three words, Mafia, Mafia, Mafia in between rap verses. At some point, as is customary with any Mohammed Ramadan production, the shirt comes off. While Mafia didn't stir as much controversy as his previous music videos, it did get negative comments from the head of the musicians' syndicate, Hany Shaker,  and talk show host, Nash'at El Dehy who  accused him of being a poor role model for Egypt's youth.
All things considered however, it seems like Ramadan isn't fazed by the haters and continues to top the charts.  
Etisalat Commercial with Van Damme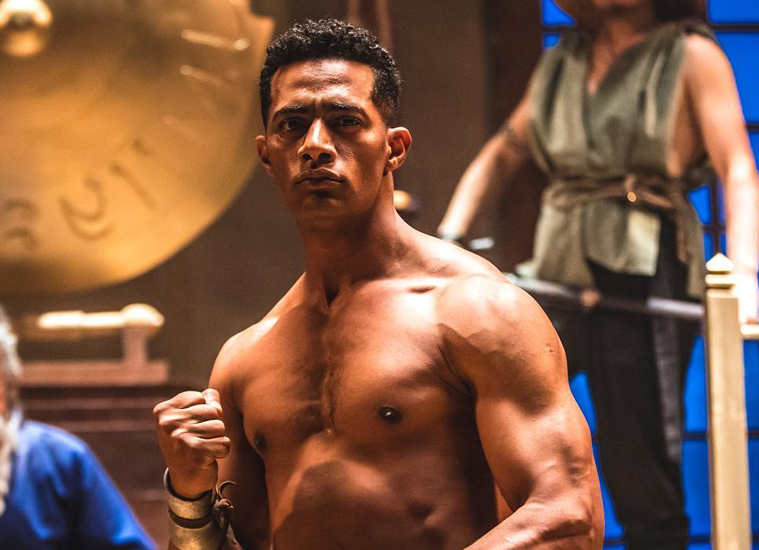 In 2019, Mohammed Ramadan shot an Etisalat advertisement alongside actor and martial artist, Jean Claude Van Damme. As if Ramadan wasn't viral enough , the advertisement was a big hit and roused over 48 million views in the two weeks it was released.  
The commercial follows Van Damme and Mohammed Ramadan as they face-off, both being the action power-houses that they are, in different settings. In the ad, Ramadan seems to have ditched his previous sidekick, the lion , and opted for a dragon to keep him company, in true Targaryen fashion - but the dragon is obvs a pipsqueak in comparison to the Queen of Dragon's sidekicks.  
The commercial ends with Ramadan and Van Damme agreeing to sort out their issues with their words instead of with their fists. 
His Series Zelzal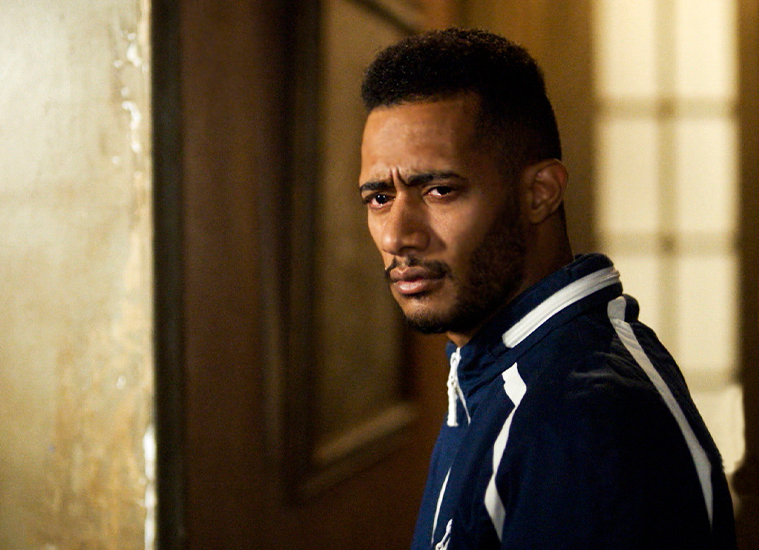 Last year, the action-actor opted to switch things up a bit by taking a gentler, more romantic role in the Ramadan series, Zelzal. The series' events, which take place in 1992, see the protagonist buy a house in installments, only for the final installment to be delayed…..by an earthquake. Things only get more complicated from then on. 
Within the first week of its airing, Zelzal gained high viewership, exceeding those of Kalabash 3 and Hogan, among other series released that year. Zelzal was also the first Egyptian Ramadan series to have a sign language interpreter on DMC.
One of the scenes from the show - which portrays Zelzal serving drinks to the girl he's in love with - reached most trending on YouTube. Is there anything Ramadan does that doesn't end up trending?
Most Viewed YouTube Channel
Taking the title of Arab celebrity with the most viewed Youtube channel in the region in 2019, Mohammed Ramadan amassed over 2 billion views that year. Whether or not viewers agree with his attitude, it is clear that the Egyptian celebrity is among the few blessed that have found the equation for success on social media.

Catch Mohamed Ramadan's latest series,  El Brince during Ramadan by subscribing to Sling TV Arabic, sling.com/arabictv.