The best things to Sling. Right in your inbox.
Success
Oops, something went wrong.

By signing up, you agree to receive blog updates and other emails from Sling TV. You may unsubscribe at any time.
'Chucky' Creator Don Mancini Talks 'Child's Play' Memories
With 'Chucky' about to debut, we spoke with creator Don Mancini about his favorite moments in the film series and much more.
If you ever hear a "Good Guy" doll tell you, "Hi, I'm Chucky. I'm your friend to the end!", it generally means you're about to be violently murdered. But if you're Don Mancini, the Chucky creator who wrote those words, they're a comforting mantra.
Over the course of 33 years, seven movies, and now a TV show—Chucky, which premieres Tuesday, Oct. 12 at 10pm ET on both USA Network and SYFY—Mancini has been the man behind the sociopathic puppet. After co-writing the original film, Mancini has been the sole writer on each installment of the original series (he was not involved in the 2019 Child's Play remake), as well as director of the last three films. As the singular voice behind the series, Mancini is the rare Hollywood auteur who has been able to pilot an entire franchise (it doesn't hurt that Chucky's actual voice has always been provided by Brad Dourif, whose daughter Fiona joined the series in Curse of Chucky). Even more rare? The fact that the movies have built rather than squandered momentum, developing an absurdly rich mythology for a film series about the exploits of a killer toy. 
It all comes to a head in the incredibly entertaining and surprisingly affecting Chucky (it doesn't hurt that it features perhaps the best cast of kids in a horror show this side of Stranger Things). In an interview with Sling TV ahead of the show's premiere, Mancini said that his experience working on a pair of other shows was revelatory.
"Other than having done an episode of Tales From the Crypt for HBO a million years ago, Hannibal and Channel Zero was my first experience with episodic TV and the writer's room situation," Mancini said. "And I loved it, I just fell in love with all of it. So that's when I started thinking about bringing my own character into the medium."
In addition to allowing the show's writers "to explore all kinds of different story strands that fans had been asking for," Mancini said he was excited to "develop characters and relationships in a much richer way." 
"I knew I wanted to have kids, I wanted to go back to our Child's Play roots, but I didn't want to do little kids again," Mancini says of his early vision. Inspiration came from an unlikely source.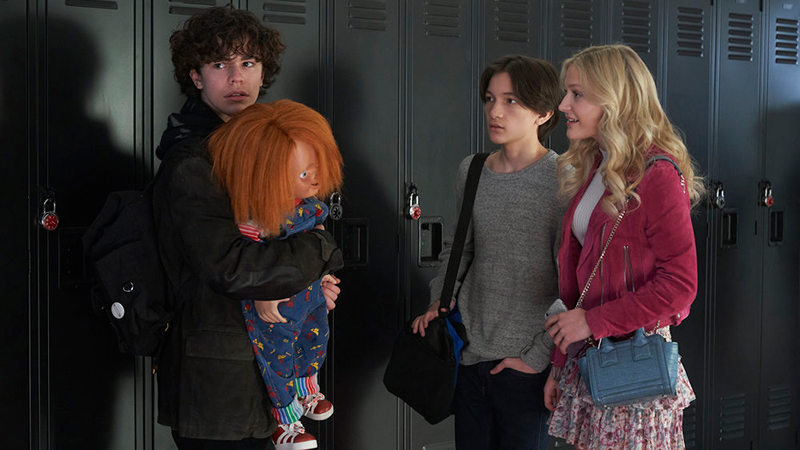 "I loved Bo Burnham's movie Eighth Grade from a couple of years ago," Mancini says, referring to the directorial debut of comedian Bo Burnham. "It's just an interesting time in a kids life. And then beyond that, I thought like, 'OK, the metaphor's gonna be bullying.' Because that's obviously still a huge problem in the world, and in the culture of youth. But Chucky himself as a metaphor for the ultimate bully, I thought it was an interesting way of exploring bullying."
His intuition was spot-on: In the show, Chucky is discovered by a sensitive, artistic teen (Zackary Arthur) who is picked on by his cooler cousin (Teo Briones) and his cruel, entitled girlfriend (Alyvia Alyn Lind). Soon, Chucky is playing a literal devil's advocate, urging Jake—who is also dealing with feelings for Devon (Björgvin Arnarson), the one kid in school who isn't mean to him—to get his revenge. Violently.
It's a clever conceit that pushes the show into fresh territory, even as it circles back to tie-up some of the loose ends from the film series. Speaking of which, we asked Mancini to share some of his favorite memories of working on those films, which will air as part of a SYFY movie marathon leading up to the premiere of Chucky on Oct. 12. Read on for Don's thoughts on some of those films; to watch the premiere of Chucky on USA Network or SYFY, sign up for Sling Blue using the link at the bottom of this page.
Child's Play 2
It was the first time I was really involved in the production. Because Child's Play was shot in early 1988, and there was a writer's strike going on. Just my luck as a young [person] newly in the writer's guild. So I couldn't go to the set.
So that was frustrating, but the producer David Kershner who's been my partner on all the films and continuing into the TV series now, he was kind enough to sort of involve me in post [production]. Once they had a cut, he sort of brought me in to at least voice my opinion. Which is all anyone wants, really, but it was really an unusual situation for a young writer to be in, that I was invited to at least express my opinion and start to learn the process.
So the director of that movie, John Lafia...was very gracious to me in allowing me just to learn, and be involved in everything. So I feel like Child's Play 2 was my first experience of using the franchise as my own film school, in a way. Which it really has been, because it's been through this franchise that I've gone from writer to producer, then second unit director, directing, and now I'm a showrunner. So it's allowed me to learn a lot about various jobs in this business. Child's Play 2 was the start of that.
Child's Play 3
The challenge of doing any kind of sequel is that the audience wants to see more of the character, more of the villain. And there is always the danger with any franchise that the more you see the villain, the less scary he becomes. The less mysterious. And in our case, it's a special problem, because we have an extra level of absurdity, because Chucky is a two-foot-tall children's doll. 
I really enjoyed the making of Child's Play 3. The director is Jack Bender, who is one of the biggest directors in television now, super-talented. The director of photography was John Leonetti, who is also a director now. So there were a lot of great people involved in that movie.  
Each one, it was always thrilling for me. The people that you meet...Andrew Robinson played the crazy barber in that. You know, here's the killer from Dirty Harry and Chucky gets to kill him. 
Sling: He was my favorite part.
Yeah, it was fun. And I was a Sweeny Todd fan, and so that's where some of that came from, with the razor. I just wanted to put the razor in Chucky's hand [laughs]. I hope to do a musical with Chucky some day.
Bride of Chucky and Seed of Chucky
On Bride of Chucky, I directed a bunch of second unit, and was very involved in post [production] on that, because the director, Ronnie Yu, at one point he had some immigration issues and he had to go back to Australia. So I was kind of the de facto director of post in Bride, in addition to having directed some second unit. 
I wanted to direct Bride, but I think David and the studio said, "You're not quite ready yet. Be a producer, direct some second unit." So I did and the movie was happily successful. 
So then I had my first experience as a director on Seed of Chucky, and it was really hard. We shot it in Romania so it was a long way from home, and it was a complicated movie. In a way, Seed was the most complicated of all of them, in that, there were three puppets. And they were the leading roles, so it's just scene upon scene where it's just three puppets talking to one another and moving through rooms and stuff. Just doing anything with a puppet is really difficult and time-consuming, let alone three. 
So all of that to say, there were times during the making of that movie where I was so anxious and down that I would kinda think like, 'OK, maybe I'm not a director, and I'm just a writer. And that's fine.' [Laughs] I was trying to go to the "accepting" [phase] if it all fell apart. But fortunately, I got to direct another movie, with Curse of Chucky and then Cult. Once I had done it once, I was demystified and I had learned a lot and I applied the lessons I had learned to the next movie, and happily, the next movie was successful.