The best things to Sling. Right in your inbox.
Success
Oops, something went wrong.

By signing up, you agree to receive blog updates and other emails from Sling TV. You may unsubscribe at any time.
New Season of 'Dave' is Deeper and Darker
FXX's hip-hop satire 'Dave' returns for its second season, which explores privilege through a darkly comic lens.
When it premiered last year, the FXX comedy Dave—a fictionalized account of the rise of comedy-rapper Lil Dicky, aka Dave Burd, the show's star, co-creator and executive producer—quickly became FX's highest-rated comedy. It's not hard to see why. The jokes combined the "oh-no-they-went-there" comedy of The League with the plotting and character-focus of Curb Your Enthusiasm. Dave co-creator Jeff Schaffer worked on both those shows, so the jokes are frequently hilarious, but the real surprise was Burd, whose fearless performance was admirable regardless of your opinion of his music.
Dave was also notable for the way it addressed difficult topics like cultural appropriation and mental health struggles with thoughtfulness and candor. The unique blend of big ideas in small, weirdly-shaped packages continues in season two, which premieres Wednesday, June 16 at 10pm ET on FXX. If the first season centered on the fish-out-of-water comedy of a neurotic white rapper navigating his hip-hop come-up, the second season is milking laughs out of Dave's newfound status and privilege. 
As the season opens, Dave has a bad case of writer's block and an even worse case of back acne. He and his crew—his manager Mike, a hilarious Andrew Santino, and hype man GaTa, who plays himself, remain endearing parts of the strong ensemble—are shooting a video in South Korea to capitalize on the K-Pop phenomena, which Dave knows nothing about. But the crew is even more ignorant about their laws around marijuana, which leads to an interesting dissection of the "ugly American" phenomena.
These types of sociological trojan horses pop up throughout the first five episodes of the season. One features Dave getting interviewed by Kareem Abdul-Jabar (who is more interested in talking about social justice than basketball) and fretting about the way he'll be portrayed in the article. Another episode makes a salient point about white privilege via food items in unexpected orifices.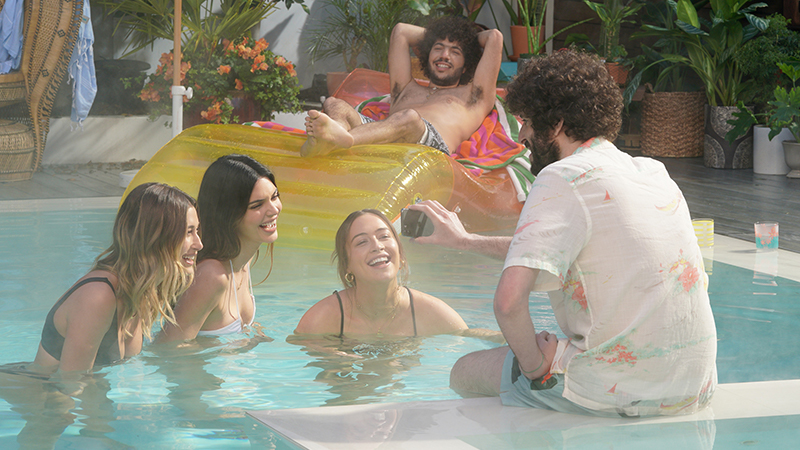 The latter episode features Benny Blanco, who is quickly becoming one of the funniest parts of the show. Like Curb, Dave often regularly features celebrities playing themselves (this season's guests include Kareem, Kendall Jenner, Hailey Bieber, Kyle Kuzma, and more). But while most of these cameos see the famous lightly mocking their public persona, Blanco has a sizable role that sees him leaping the canyon that separates "self-deprecating" from "totally fearless." If you've ever wanted to see the writer of spare and sensitive hits from Ed Sheeran and Justin Bieber get [redacted] removed from his [redacted], your wish has been granted.
So yeah, there's a degree of raunchiness to Dave that might not be for everyone. And with Dave struggling to adjust to single life, make music, and connect with his closest friends, this season has a darker vibe than the first, at least in its first half. But in terms of tone, Dave retains its distinct sensibility, one awash in opportunities for squirm-comedy. The melody that Dave makes may be dissonant, but it never hits a false note.

Season two of Dave premieres with back-to-back episodes Wednesday, June 16 at 10pm on FXX. Use the link below to get FXX on Sling with the Hollywood Extra package.