The best things to Sling. Right in your inbox.
Success
Oops, something went wrong.

By signing up, you agree to receive blog updates and other emails from Sling TV. You may unsubscribe at any time.
22 Shows Coming to Sling TV in 2022
2022 has new seasons of shows like 'Atlanta,' Snowpiercer' and 'Resident Alien', and the finales of 'The Walking Dead' and 'Killing Eve.'
If the past two years have taught us anything, it's that we have to look ahead to better days to come. In that spirit, we're spotlighting 22 of the best new shows coming to Sling TV in 2022. Whether it's new seasons of critical favorites like Atlanta and Better Call Saul, the final seasons of longtime staples like The Walking Dead, or intriguing new series like Kill the Orange-Faced Bear and Interview With the Vampire, here are nearly two dozen new shows you can look forward to catching on Sling this year. Use the link at the bottom of this page to try Sling Orange + Blue for FREE.
Note: All release dates are subject to change.
Winter 2022
Fixer Upper: Welcome Home
Premieres Wed. Jan. 5 on Magnolia Network
After a four-year hiatus, Chip and Joanna Gaines are relaunching their hit show Fixer Upper: Welcome Home on the all-new Magnolia Network, a rebrand of DIY Network. The new channel goes live on January 5, and you can watch it by adding the Lifestyle Extra Package on Sling Orange or Blue. - Chase Hoven
RuPaul's Drag Race
Season 14 premieres Fri. Jan. 7, at 8pm ET on VH1
Now in its 14th season, RuPaul's Drag Race has become one of the most acclaimed shows on television. Not only is the drag competition a perennial winner for "Outstanding Competition Program" at the Emmys, RuPaul has now won the award for outstanding reality host six years in a row, making him the most-awarded Black artist in Emmy history. This year's competition will feature the show's first heterosexual contestant. - Mark Schiff
Snowpiercer
Season 3 premieres Mon., Jan. 24, at 9pm ET on TNT
With the addition of Sean Bean as the manipulative yet charismatic Mr. Wilford in season 2, TNT's post-apocalyptic thriller Snowpiercer hit a new gear last year. Bean returns again in season 3, along with Daveed Diggs, Rowan Blanchard, and Jennifer Connelly, whose attempted rescue by the "pirate train" kicks off the new season. Along with the rest of its award-winning cast, Emmy nominee Archie Panjabi and Chelsea Harris join Snowpiercer for its new season. The show has already been picked up for a fourth season as well. - MS
Related: Watch our interview with the Snowpiercer cast
Resident Alien
Season 2 premieres Wed. Jan. 26, at 9pm ET on SYFY
Alan Tudyk returns for a new season of this charming SYFY original about an extraterrestrial who assumes the body of the local doctor in a small Colorado mountain town, while secretly plotting to destroy the Earth (season 1 spoiler alert: He doesn't). The show features a strong supporting cast of quirky characters, but with a performance inspired by both children and clowns, Tuduk steals the show. - MS
Related: Watch our exclusive interview with Alan Tudyk
From
Premieres Sun. Feb. 20 on Epix
On the heels of the terrifying Chapelwaite, Epix is rolling out another new horror series, this one with a more sci-fi-looking twist. Based on the trailer above, From is set in a town that no one can escape, a place where very bad things come at night. The cast includes Harold Perrineau, who is becoming a staple of this subgenre following his time on Lost. - MS
The Walking Dead
Season 11B premieres Sun. Feb. 20, at 9pm ET on AMC
This AMC hit once looked like a walker on its last legs, but its quality has rebounded over the past couple of seasons. The second batch of eight episodes from the series' three-part final season will likely set up the home stretch (which will air in the fall). Fans can also expect an spin-off anthology series, Tales of The Walking Dead, to premiere this summer. - CH
Snowfall
Season 5 premieres Wed. Feb. 22, at 10pm ET on FX
Just like its title, Snowfall has been accumulating momentum over its first four seasons, en route to becoming FX's "most-watched series of 2021." Co-created by the late great John Singleton, this crime epic is set during the '80s crack epidemic in South Central Los Angeles. Season 5 will be set in the summer of 1986, with the Saint family enjoying their hard-earned spoils, until outside (police) forces and (gang) warfare starts to exacerbate the crack(s) at the foundation of their empire. - MS
Killing Eve
Season 4 premieres Sun. Feb. 27, at 9pm ET on BBC America
As Killing Eve enters its final season, it will be hard to say goodbye to the captivating cat-and-mouse game between Eve (Sandra Oh) and Villanelle (Jodie Comer), but the countdown begins February 27 with a fourth season that promises to be "messy" and "glorious" - apt descriptions of these two illustrious characters. - Janine Schaults
Better Things
Season 5 premieres Mon. Feb. 28, at 10pm ET on FX
Pamela Aldon's Peabody-winning comedy will finish its run with a fifth season that premieres this February on FX. Loosely based around Aldon's own experience as a character and voice actor (she voiced Bobby Hill on King of the Hill), the new season will find her character Sam Fox, along with her three daughters and aging mother, "[coming] of age into the next phase of their life, [as] they are inspired to reevaluate themselves, learn from the past and find their own direction." - MS
Outlander
Season 6 premieres Sun. March 6, at 9pm ET on Starz
Outlander fans will have gone 665 days since seeing hunky Jamie Fraser (played by Sam Heughan) shirtless in a new episode by the time the sixth season premieres on March 6 (thank goodness for reruns). Pandemic cruelty at its finest! Based on A Breath of Snow and Ashes—the sixth book in Diana Gabaldon's Outlander series—this season clocks in at only eight episodes (the hits just keep on coming don't they?) and follows the folks at Fraser's Ridge as the American Revolution inches closer.  - JS
Related: Outlander stars Catriona Balfe and Sam Heughan get candid about their sex scenes.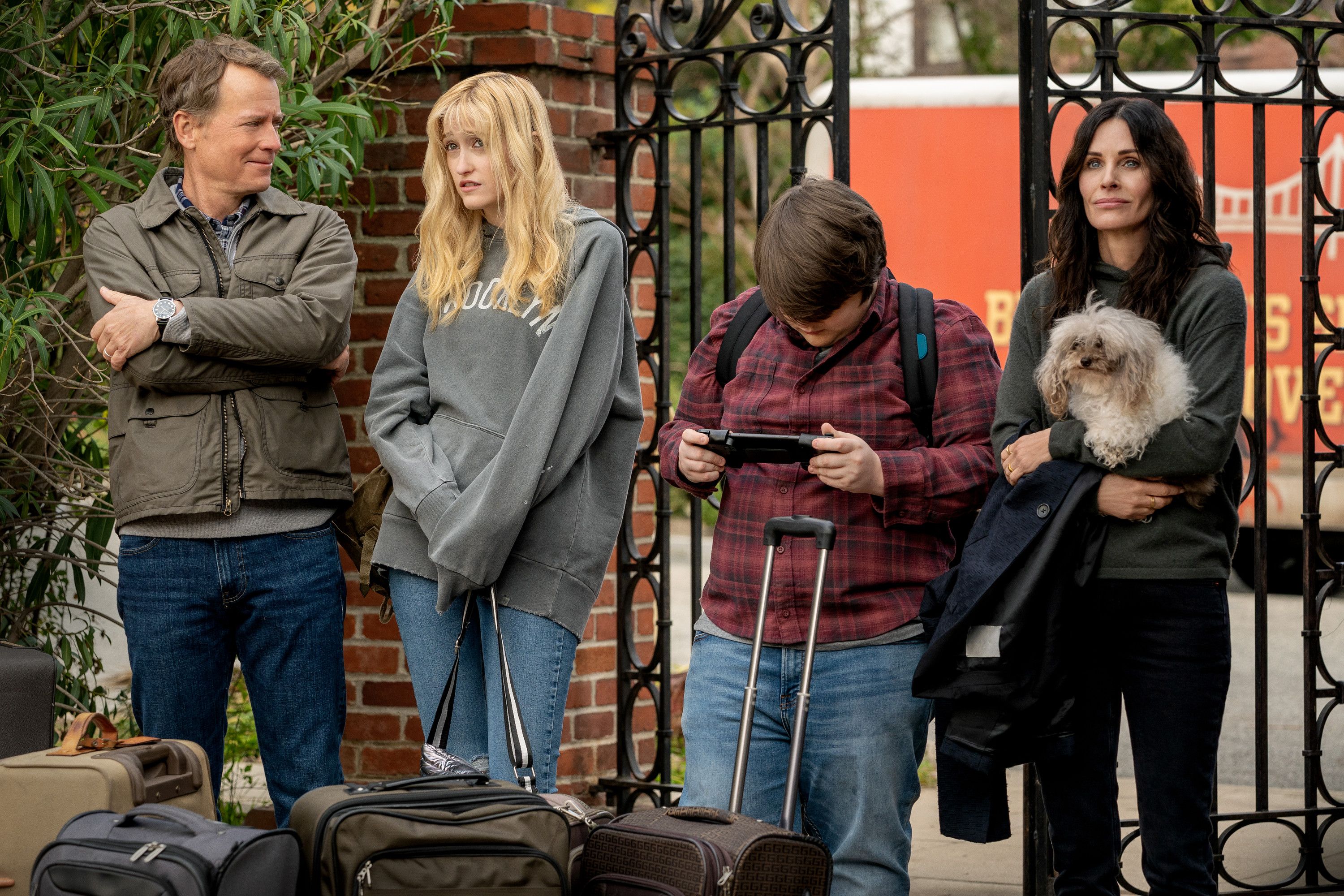 Shining Vale
Premieres Sun. March 6, at 9pm ET on Starz
Courteney Cox dons her horror-comedy hat once again as she returns to television alongside vets Sherilyn Fenn, and Greg Kinnear in Shining Vale on Starz. Fun fact: all three of these actors appeared on Friends, albeit in different episodes. Mira Sorvino also co-stars. - CH
The First Lady
Spring TBD on SHOWTIME
Viola Davis as Michelle Obama. Do you need to know more than that? If that casting choice isn't a slam-dunk reason to watch SHOWTIME's latest anthology series, what is? How about Michelle Pfeiffer as Betty Ford and Gillian Anderson as Eleanor Roosevelt? The hour-long drama will show three presidencies from the vantage point of the women who helped shape them in addition to their individual journeys to the East Wing of the White House. - JS
Atlanta
Season 3 premieres Thur. March 24, at 10pm ET on FX
Fans of FX's groundbreaking, Emmy-winning Atlanta have been waiting a long time for new episodes (it actually turned up in our 2021 preview post). After a nearly four year wait, season 3 arrives with a two-episode premiere on Thursday, March 24. The new season picks up where they left off, with Earn (Donald Glover), Paper Boi (Brian Tyree Henry), Darius (LaKeith Stanfield), and Van (Zazie Beetz) "in the midst of a successful European tour, as the group navigates their new surroundings as outsiders, and struggle to adjust to the newfound success they had aspired to." Based on the trailer above, the new season should continue the show's irreplaceable, existentialist tone. - MS
2022 TBD
Beavis and Butt-Head
Comedy Central
It's not really clear if we'll actually get the first of the two new seasons of Comedy Central's reboot of MTVs '90s stoner classic we were promised when series creator and certified comedy genius Mike Judge made the deal back in the summer of 2020. But if it does arrive, expect the new version to feature "meta-themes relatable to both new and old fans – Gen X parents and their Gen Z kids." - MS
Better Call Saul
Season 6 on AMC
As both a follow-up and prequel to the one of the greatest TV shows of all time, Better Call Saul has defied expectations during its seven-year run. Stars Bob Odenkirk (who suffered a health scare last year while filming the new season) and Jonathan Banks are set to return for a highly-anticipated sixth and final season, premiering sometime in 2022 on AMC. - CH
Chad
Season 2 on TBS
Although the stunt casting of series creator Nasim Pedrad as the titular 14-year-old pubescent Persian boy grabbed the headlines, Chad turned out to be a surprisingly funny and heartfelt depiction of teenage awkwardness. As we wrote last year, the show's tone lands somewhere between the cringier episodes of The Office and Napoleon Dynamite, which is to say, it's distinct. - MS
Gaslit
Starz
Julia Roberts and Sean Penn lead this prestige drama based on the Slow Burn podcast from Slate, which takes a modern look at the Watergate scandal and the lesser known individuals involved in the events surrounding Richard Nixon's downfall. Much like First Lady, the casting is an embarrassment of riches. - JS
Interview With the Vampire
AMC
After selling the rights to her book catalog to AMC in 2020, Interview With the Vampire author Anne Rice died in December at the age of 80. Sadly, she won't see the first adaptation of her 18 titles AMC purchased, which also includes her Mayfair Witches series, another show AMC will premiere in 2022. The star power of the 1994 adaptation (Tom Cruise, Brad Pitt, Antonio Banderas, and Christian Slater teamed up for what was essentially The Avengers of '90s heartthrobs) drained the story of life, so we'll see if this new version can get things right with a lesser-known cast that includes Jacob Anderson as Louis, Bailey Bass as Claudia, and Sam Reid as Lestat. - MS
Kevin Can F*** Himself
Season 2 on AMC
The premise of this AMC dramedy is pretty crazy: What happens when the put-upon sitcom housewife leaves the same room as her schlubby, insensitive husband? How does she really feel? Well, the first season of Kevin Can F*** Himself showed us: like a murderess. Annie Murphy and Eric Petersen as the titular character will return for a second and final season, where we will hopefully find out if their relationship ends in divorce or death. - JS
Kill the Orange-Faced Bear
TBS
Along with new seasons of Chad and Miracle Workers, TBS has ordered a new 10-episode series to join its comedy lineup. This one sounds wild, literally and figuratively: According to a press release, it's about "one man's epic revenge journey after a bear eats his girlfriend." The show stars Damon Waynes Jr. as Hank, "the charming, funny and grieving man" in search of Brenda the Orange-Faced Bear, a "sarcastic badass grizzly" who will be voiced by Sarah Silverman. Jessy Hodges, Alex Karpovsky, and Nate Torrence co-star as humans, while the voice cast also includes Nicole Byer and Sam Richardson. - MS
Soulmates
Season 2 on AMC
AMC's first anthology series, Soulmates deserved a second season; it's Black Mirror-y premise—a new lab test that can identify each person's soulmate, whoever and wherever they may be, so long as both parties have been tested—proved surprisingly fertile soil for telling a variety of stories across numerous genres, not just sci-fi. The best episodes rank alongside top-tier Black Mirror, so we're excited to see where the show takes us next. - MS
The Bear
FX
There's not a lot of information about this upcoming FX show, beyond the logline: "a half-hour comedy about a young chef (Jeremy Allen White) who returns to Chicago to run the family restaurant." However, with executive producers Joanna Calo (Bojack Horseman, Undone), Hiro Murai (Atlanta, Station Eleven) and Nate Matteson (Station Eleven, The Choe Show) on board, so are we. Ebon Moss-Bachrach, Ayo Edebiri, Lionel Boyce, Abby Elliott, Liza Colón-Zayas, Edwin Gibson and Matty Matheson also star. - MS
Use the link below to try Sling Orange + Blue for free. For even more savings, Refer a Friend to Sling and get up to $20 off both your bills!