The best things to Sling. Right in your inbox.
Success
Oops, something went wrong.

By signing up, you agree to receive blog updates and other emails from Sling TV. You may unsubscribe at any time.
Sling's Product Manager Takes You Inside the New App
With Sling's all-new app rolling out, principal product manager Venkatesh Hegde breaks down all the new features.
Fire up those Fire Sticks, because there's a whole new way to Sling.
Beginning this week, Sling's new app will be rolling out to all Amazon Fire customers. By the end of August, the new app should be available to all Roku users, making it easier than ever to find their favorite shows and movies, record content, and discover even more of what they'll love.
The new app is the first complete redesign in Sling's six-year history, and to get a better understanding of what we changed (and more importantly, why) we spoke with Sling's principal product manager Venkatesh Hegde about what users can expect when they launch the all-new app. Note: quotes have been edited for length and clarity.

Sling: How did user behavior influence the changes you made to the app?
Venkatesh Hegde: In terms of user behavior, what we have seen is that—and this is through both usage data of the app itself, as well as in connecting with customers and better understanding their needs—what we see is that people typically are creatures of habit. [Meaning], they have their favorite set of channels that they care about; they want those channels to be as easily accessible as possible, basically convenience; and people also care a lot about their recordings. A big feature with live TV is the ability to watch things on your time, skip through commercials. So people care a lot about that as well.
We've optimized the experience to make it easy for our customers to watch their favorite content. Ease of use has been the guiding principle. That's been a guiding principle. So when you open the new app, you'll see your favorite channels a click away. You'll see your favorite recordings a click away. You'll also see your favorite shows that you typically watch on these channels, that as well is easily accessible. So we've really leaned into that aspect.
Additionally, since we began the rollout, our customers have told us that they expect a richer "Browse While Watch" experience beyond "Recent Channels" while watching content.  We've taken their feedback to heart and are actively working to ship Guide-like features that help them see everything else that's on. We will be tackling this experience in increments: an initial improvement that will be rolled out soon and we will continue to add to it.

What would you say is the single biggest change to the home screen experience?
On the home screen, we surface content that the user is most likely to habitually watch. That is so that the customer doesn't have to seek out content. Rather, relevant content is surfaced to them for easy access. We surface the most popular content at that time on our service, so that is trending content. We provide shortcuts to customers' favorite channels, recordings, and shows. So the way the home screen is organized, think of it as personalized suggestions at the top, and then the second half of the home screen is easy access to their favorites. That's the biggest change: It's really the ease of accessing the stuff that matters to you. 
What are the major changes to navigation?
I think first and foremost, the main navigation is now to the side. It used to be at the top. We've also made changes to what we show in the main navigation as well. A subtle change but a huge change from a customer standpoint is the introduction of DVR to the main navigation. Customers have repeatedly told us they need a more convenient way to watch and manage their recordings. Especially with us recently launching the 50-hour tier, the 200-hour tier, customers can record a lot more shows. So the introduction of the DVR tab to the main navigation helps with one convenient location for people to consume and manage their recordings.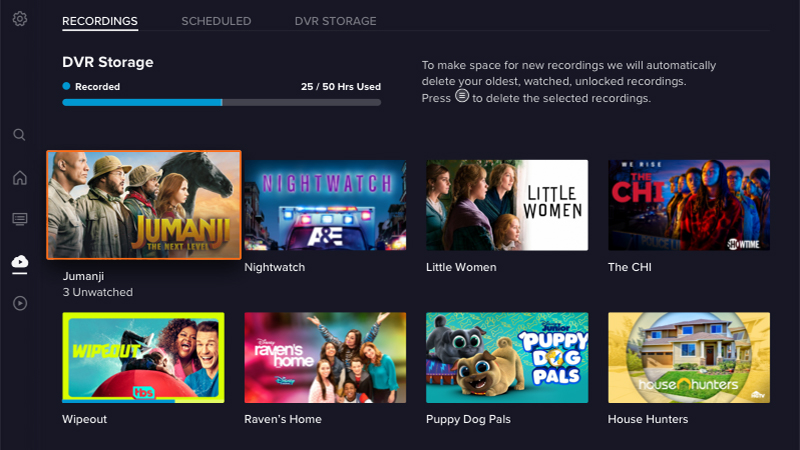 What are the other improvements to the cloud DVR experience?
The way we've ordered content in the DVR tab is based on recency. Meaning, your most recent recordings are what you'll see at the very top. Our data tells us that people as soon as they record, within a week, 90 percent-plus of recordings get consumed. In other words, stuff that is recently recorded is the most valuable, so we made that super easy to access on both the DVR and Home tabs. 
Separately, from a management standpoint, we've introduced helpful features like trash. So for example, if your DVR is getting full, previously, it took quite a lot of clicks to delete the recording in question. With the new UI, we've actually leaned into the cable TV behavior a little bit here. Especially with set-top boxes, there's a dedicated DVR button on remotes. So we've mimicked that behavior with the Amazon sticks, the Roku sticks. While these remotes don't have a dedicated DVR button, we've repurposed [one] from the existing buttons on the remote. So with Amazon, it's that hamburger button. Clicking on that hamburger button immediately deletes the recording. And there's no additional, "Are you sure you want to delete this?" The customer's already made up their mind when it comes to deleting the recordings, so we make that function easy for them. 
But mistakes happen, I "fat finger" all the time. So in the case of accidental deletes, we do have a trash feature that hangs onto deleted recordings for 48 hours. So in case there's an accidental delete, people have an easy way to restore the recording in question. So I'd say that's the biggest change in terms of ease of management. 
The second change is a scheduled tab. Again, cable TV customers are really used to that experience and that's a target market that we've actually optimized for. We want to make sure that when a cable TV customer who has just cut the cord and is looking for alternatives, [when they look] at Sling, the experience for them is familiar. So that's an aspect we've really leaned into.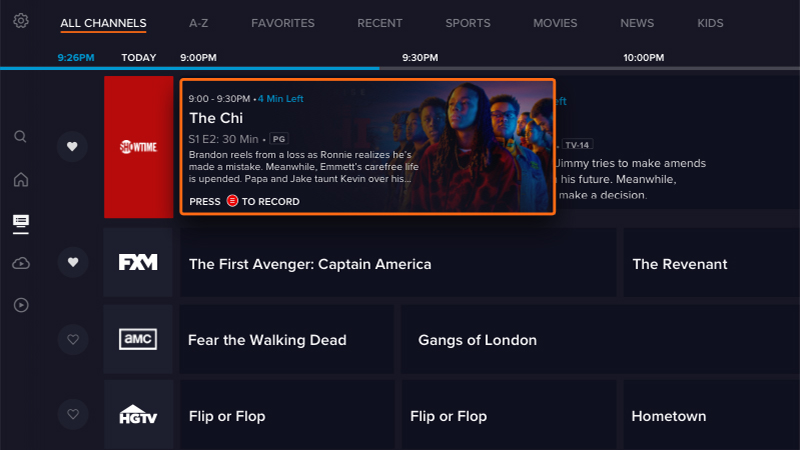 What changes did you make to the guide?
What we've done with the reimagined guide, again, the focus is ease of use, ease of finding what you want to watch. So first and foremost, we've added helpful sort and filter options, "A-to-Z" sort being one of them, which basically presents an alphabetized view of the channels.  Additionally, we've added helpful filters like "Favorites" and "Recents." We've gotten feedback from our customers that, "I just want to see the channels that I care about, i.e., my favorite channels." So there's a view in the guide that filters down just to your favorite channels. And the nice thing about that is it actually remembers your setting. So let's say you're in the guide, you're in your favorites, you either exit the app or you switch to another tab and come back to the guide, you will be taken immediately back to the favorites view. 
So helpful sort and filter options, that's one. The second one is an easy way to favorite channels. It's right next to your channel, to the left, it's a heart icon. You click on it and it's saved. So it's as simple as that. 
We've also introduced a "one-click-to-record" functionality. Going back to what I said earlier, cable TV users are used to this dedicated DVR button on the remote. So we've mapped that to this hamburger button on the Amazon remote; we've mapped that to the star button on the Roku remote. But the core idea there is, you're scrolling through your guide, you want to record a program for now or later, you press that button and the recording gets set. Of course we ask options like, "Do you want to record this particular episode or new episodes only or everything?" 
The one thing [early reviews haven't mentioned] is the access to the channel guide. For context here, we have two guide views in the current experience, we've got a traditional grid, and we've got what's called a channel guide. We've not taken away the channel guide, just to make that clear, we've just changed how people access the channel guide. When you click on the channel logo, and then you get taken to the dedicated channel page, with the live and on demand content of that channel. We have people who browse by channel as well: "I want to see what's on TNT, or I want to see what's on Showtime." So for that user behavior, we have options as well. We're in the process of gathering feedback on this particular update at the moment, and will continue to improve this experience.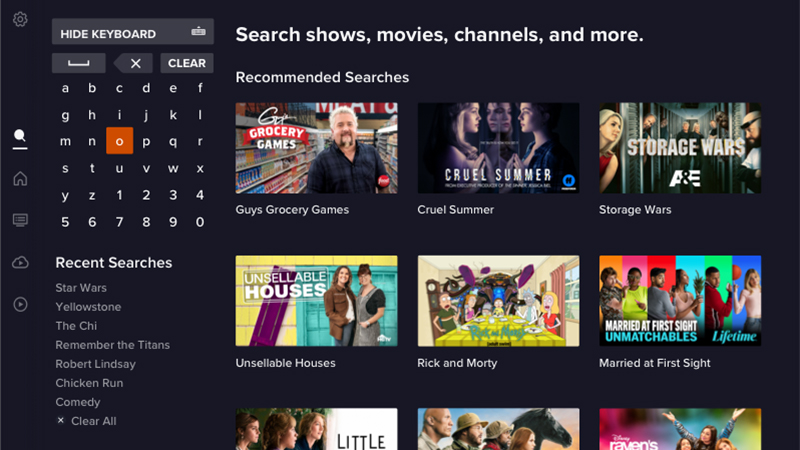 What is the Smart Search feature about?
Especially on a TV, searching is a bad experience. Meaning, you're using your remote, you're typing in characters, it takes effort, it takes time, it's clunky. So we have optimized our search experience for what's called "zero click searches." So in other words, we will predict what you are likely to search. And we have good historical search data that helps us do that with a high degree of accuracy. It turns out, people are creatures of habit. They do tend to search for the same channel repeatedly, because people are interested in what's on that channel, right? So we can pick up on signals like that—what they've searched for previously, what customers like them are searching for—[in order] to populate search suggestions for them. 
So we have two personalized search features called "recent searches," as well as "recommended searches." What I see, in other words, is going to be different from what you see in "recommended searches." It's going to be modeled on what you typically search for and what I typically search for. So these two features are "zero click" search features. The majority of our users' searches are satisfied by these features already, based on our data.  
With that said, we've still preserved the keyboard search, because people expect that. And when you start typing in characters, you immediately start seeing results as a user. You don't have to type in a few characters, wait for the results to load, and see. Instead, as soon as you start typing, you will start seeing results. 
From a design standpoint, how did you strike a balance between the traditional cable TV experience and what customers are used to with streaming services like Netflix?
We really leaned into making sure that cable TV customers, the ones first and foremost who are cutting the cord…[we] can help them find their channels easily. We've tried to make the experience familiar for them. Yet we've got the twists that you expect with a modern streaming service like Netflix. It's really an interesting question, because cable TV users want the familiarity of a cable TV experience. But, those same cable TV users also have Netflix, so they expect ease of use. So this effort has basically been trying to marry the two: Preserve the familiarity and ease of use.
To get the most out of Sling's brand new UI, sign up for Sling Orange + Blue using the link below!