WATCH NOW
caret
Offer Details
Updated April 1, 2020
Limited Time Offer
Available to new customers upon account activation. One per customer. Must provide email address and credit card. After 1 mo., you will be billed for Sling monthly at the everyday price unless you go online to cancel. Your account will be authorized to receive programming upon your first login.
Billing
After one month, your credit card will be charged monthly for applicable subscription until you cancel your service.
Cancellation
Cancel on Sling.com or visit help.sling.com to contact us. Programming fees are charged monthly in advance and no credits or refunds will be issued for partial or prepaid months after cancellation.
Streaming limitations
The number of devices on which Sling content can be watched at the same time varies based on the Sling service. If you subscribe to our Sling Latino core services, you can enjoy three streams at a time.  If you subscribe to our Sling International core services, you can enjoy three streams at a time. If you subscribe to our Sling Orange service, you can enjoy one stream at a time. Any extras you add to your Sling Orange service will be included in your single stream. If you subscribe to our Sling Blue service, you can enjoy up to three streams of these channels at the same time. Any extras you add to your Sling Blue service will be included in your three streams. If you subscribe to both services in Sling Orange + Sling Blue, you can enjoy up to four streams at the same time. Because you are purchasing two separate services in Sling Orange + Sling Blue, you can get the total number of streams included on each separate service—one stream for any channel on the single-stream Sling Orange service and three streams for channels on the multi-stream Sling Blue service. To get up to four streams, go to the My Account page and make sure that the "show me only Sling Blue versions of channels in both services" box is not checked. 
Miscellaneous
Certain programs may be unavailable due to programmer restrictions or blackouts. Only available within the United States. State and local taxes apply. All prices, fees, charges, services, programming, features, functionality and offers subject to change without notice. EPIX® is a registered trademark of EPIX Entertainment LLC. Marvel's The Avengers, the Movie: © 2012 MVL Film Finance LLC. The Avengers, the Characters: TM & © 2021 Marvel Entertainment LLC & Subs. All Rights Reserved. Sonic The Hedgehog © 2021 Paramount Pictures. All Rights Reserved. Terminator: Dark Fate © 2021 Paramount Pictures. All Rights Reserved. SHOWTIME and related marks are trademarks of Showtime Networks Inc. a ViacomCBS Company. Individual programs, devices and marks are the property of their respective owners. All Rights Reserved. Glory © 1989 TRI-STAR PICTURES INC. American Gods © 2020 FremantleMedia North America, Inc. All rights reserved. Men In Kilts: A Roadtrip with Sam and Graham © 2021 Sony Pictures Television Inc. All rights reserved. © 2021 STARZ
Channels Offered in Select Markets
Some local channels including FOX and NBC are only available in select markets. See which local channels are available in your area here.
STREAMABLE ENTERTAINMENT FOR THE WHOLE FAMILY
Family-friendly means more than just children's cartoons and animated musicals. Sling TV's Family genre gives you and yours a wide range of titles that both parents and children will enjoy. From classic movies that will spark nostalgia to talent and cooking shows, Sling has titles for everyone in the family.
Stay Home for Family Movie Night with Sling
Grab some blankets, pop some popcorn and enjoy a night in with family-friendly movies and TV shows from Sling. With the range of channels you can add to your lineup as well as rental options, it's easy to find a title that everyone in the family will enjoy and even easier to stream your selection to your biggest screen.
Watch something new that everybody has been waiting to see or re-watch an old favorite that already gets quoted around the dinner table every night. Sling makes it easy to see the ratings for movies as you scroll so you can pick something appropriate for your family, whether that's G, PG or PG-13.
Stream movies like The Sandlot or Home Alone to make parents feel like kids again or watch more recent hits like Monsters University or High School Musical that will entertain the whole family. Shows like America's Got Talent or Chopped Junior are a fun way to binge as a family.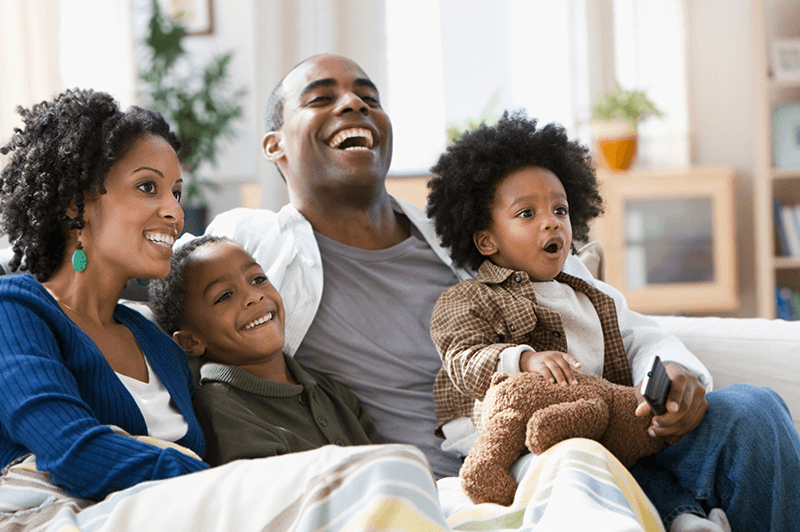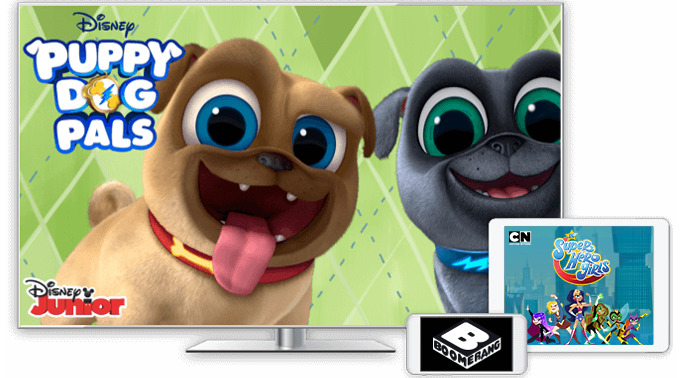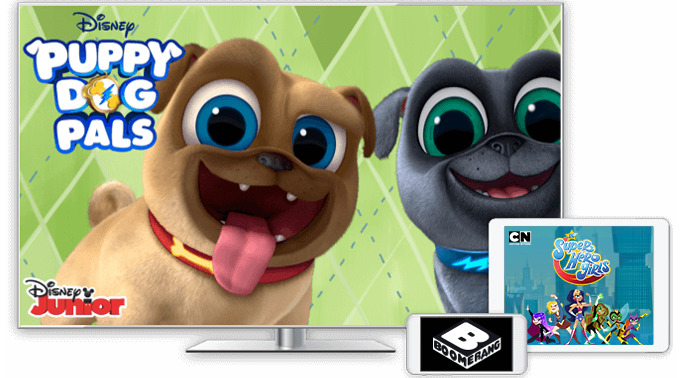 Watch Your Family's Favorite Shows On the Go
Make road trips more bearable with Family content from Sling streamed directly onto your favorite devices. All you need is internet connectivity for your kids to watch their favorite shows and movies on a tablet, laptop or smartphone and stop asking "Are we there yet?" every five minutes.
Stuck at a weekend-long soccer tournament or a long layover at the airport? Stream Family movies and series to keep both you and your kids entertained through the hours of waiting. You can even activate Parental Controls to make sure that your kids aren't stumbling upon anything they shouldn't be watching.
Sling Blue allows you to stream on up to three screens at one time, which is perfect for when the whole family just can't decide on a single title. Sling Orange and Sling International only allow one screen at a time, but users of Sling Latino can watch two streams. Learn more about screen limitations and adding additional streams here.