EVERYTHING YOU LOVE, ALL IN ONE PLACE.

Save $5 every month when you bundle Sling Blue with Hindi Pack! Get the best all-in-one TV experience with tons of live sports, news, and entertainment!
10+ Hindi channels and 30K+ hours of on-demand content with SonyLIV and VOOT
40+ American channels and 85K+ American movies & shows on-demand
NBC & FOX are available in select markets. NFL Network is available nationwide.
Want even more Football coverage? Add Sports Extra at checkout! (optional)
THE SLING TV ADVANTAGE
Anywhere you go, Sling TV goes, too - Watch your favorite Hindi & American content wherever you are - on any device.
Free Catch Up TV - Automatically saves your Hindi TV shows so you can watch them up to 8 days after they air. Never miss an episode!
Free Additional Streams - Watch different Hindi TV shows on up to 3 devices - All on one account!
DVR Free - Record up to 50 hours of Hindi & American TV with DVR Free!
Free Watch Party - Watch live Hindi & American TV while video chatting with up to three friends on any computer.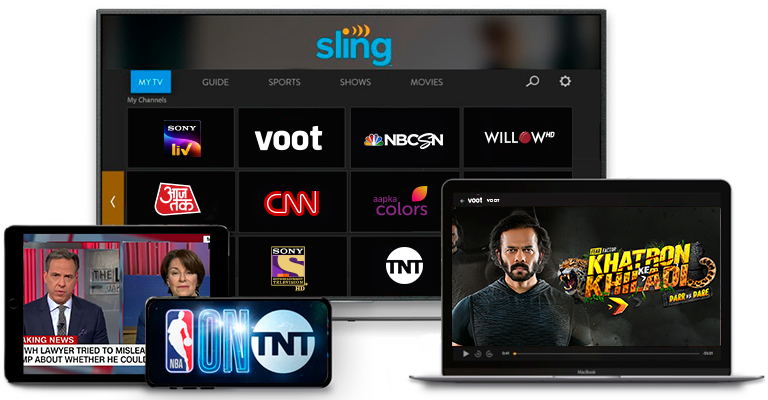 ×
NBC and FOX Select Markets
NBC Stations
NBC-KNBC
NBC-KNSD
NBC-KNTV
NBC-KXAS
NBC-WBTS
NBC-WCAU
NBC-WMAQ
NBC-WNBC
NBC-WRC
NBC-WTVJ
NBC-WVIT
FOX Stations
FOX-KCPQC
FOX-KDFW
FOX-KMSP
FOX-KRIV
FOX-KSAZ
FOX-KTBC
FOX-KTTV
FOX-KTVU
FOX-WAGA
FOX-WFLD
FOX-WITI
FOX-WJBK
FOX-WNYW
FOX-WOFL
FOX-WOGX
FOX-WTTGI
FOX-WTVT
FOX-WTXF
Local Markets
Los Angeles
San Diego
San Francisco
Dallas
Boston
Philadelphia
Chicago
New York
Washington, DC
Miami
Hartford
Local Markets
Seattle/Tacoma
Dallas/Ft. Worth
Minneapolis
Houston
Phoenix
Austin
Los Angeles
San Francisco
Atlanta
Chicago
Milwaukee
Detroit
New York
Orlando
Gainesville
Washington, DC
Tampa
Philadelphia