WATCH LIVE TV ON AIRTV PLAYER
A new way to instantly stream sports, shows, and movies alongside your local channels

AIRTV PLAYER + ADAPTER
Now $50 

Was $129.99
When you sign up for three months of Sling TV 
Limited-time offer
Get this offer
×
Device Offer Details
Updated October 25, 2017
Device Offer
One per customer and cannot be combined. Must provide email address and credit card. Must pre-pay for three months of service. New customers only. Limit one device per Sling TV account. Not available with free trial. Not available in Puerto Rico.
Billing
After three months, your credit card will be charged monthly for applicable subscription until you cancel your service.
Cancellation
Cancel on Sling.com or visit help.sling.com to contact us. Programming fees are charged monthly in advance and no credits or refunds will be issued for partial or prepaid months after cancellation.
Streaming limitations
The number of devices on which Sling content can be watched at the same time varies based on the Sling service. If you subscribe to our Sling Latino core services, you can enjoy two streams at a time.  If you subscribe to our Sling International core services, you can enjoy one stream at a time. If you subscribe to our Sling Orange service, you can enjoy one stream at a time. Any extras you add to your Sling Orange service will be included in your single stream. If you subscribe to our Sling Blue service, you can enjoy up to three streams of these channels at the same time. Any extras you add to your Sling Blue service will be included in your three streams. If you subscribe to both services in Sling Orange + Sling Blue, you can enjoy up to four streams at the same time. Because you are purchasing two separate services in Sling Orange + Sling Blue, you can get the total number of streams included on each separate service—one stream for any channel on the single-stream Sling Orange service and three streams for channels on the multi-stream Sling Blue service. To get up to four streams, go to the My Account page and make sure that the "show me only Sling Blue versions of channels in both services" box is not checked. Regardless of whether you chose Sling Orange, Sling Blue, or both (Sling Orange + Sling Blue), you will be able to watch HBO® content on up to three devices simultaneously.
Miscellaneous
Certain programs may be unavailable due to programmer restrictions or blackouts. Only available within the United States. State and local taxes apply. All prices, fees, charges, services, programming, features, functionality and offers subject to change without notice.
Channels Offered in Select Markets
Some local channels including FOX, NBC, ABC, Univision and UniMás are only available in select markets. See which local channels are available in your area here.
Additionally, Sling Blue comes with FOX Regional Sports networks in select markets based on your billing zip code.
WATCH A LA CARTE TV ON AirTV PLAYER
With the AirTV Player, you can cut the cord and keep the TV experience you love. With the simple integrated guide, you can access shows and movies on Sling TV, local channels, Netflix and more — all in one place. The AirTV Adapter lets you connect your antenna and watch local channels right from within the Sling TV app! The AirTV Player is the only major streaming device that gives you access to local channel programming in such a simple way.
The easy-to-use Bluetooth voice remote can control your AirTV Player, local channels, TV and sound system. And with the Remote Finder feature you will never lose your remote again. The AirTV Player also supports 4k ultra HD and is "Optimized for Sling TV," a certification designed to ensure an optimal Sling TV entertainment experience.
Get the Sling TV + AirTV Bundle Deal >

Sling TV and Netflix require separate subscriptions. Local channels require AirTV adapter and antenna; both sold separately.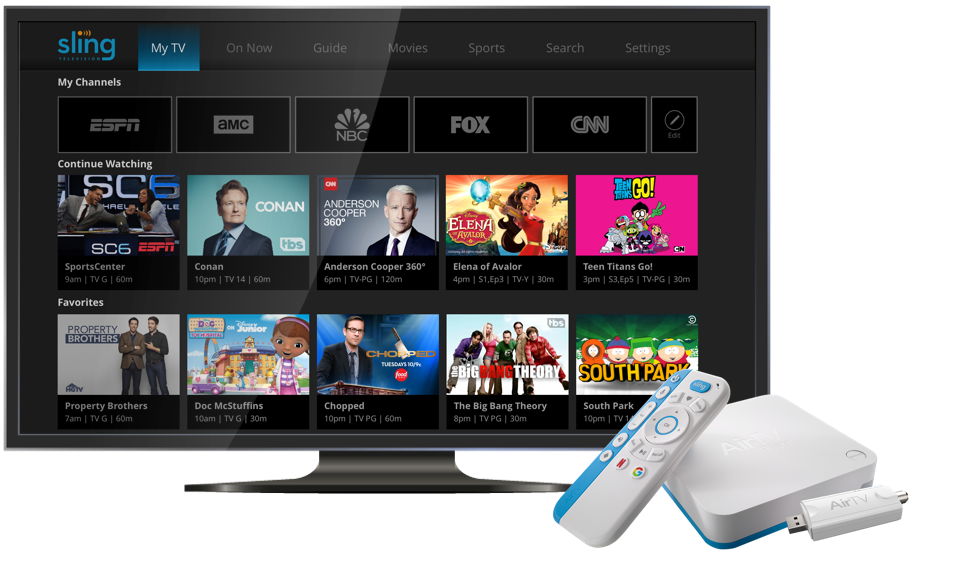 A LA CARTE TV
---
Personalize your channel lineup & save. Start with the service that's best for you, then customize with Extras in your favorite genres, including sports, comedy, kids, news, movies, lifestyle & Spanish, starting at just $20 a month. Stream instantly on your AirTV player and other top devices. This is TV on your terms — no useless channels, no long-term contracts, no hidden fees. 
This is A La Carte TV, only from Sling TV.